Welcome to the Rogue Valley Model Railroad Club's
Pacific and Eastern Railroad
What's going on here? At first glance it looks like a bunch of middle aged guys with pot bellies running trains around in circles. But, wait, there's more to it than that! These guys have a scheme going here that replicates a real railroad.
A REAL Railroad? How? The modules that make up the model railroad in front of you are arranged and named for towns along the line from Medford to Klamath Falls.
What Railroad from Medford to Klamath Falls? In 1904 the Medford and Crater Lake Railway was chartered and began laying track towards Crater Lake. That attempt at a railway floundered near Eagle Point and in 1907 the Pacific and Eastern Railway was incorporated. The P&E laid track on into Butte Falls by 1911 and, with the financial backing of James H. Hill, intended to continue on over the Cascades into Klamath Falls. Mr. Hill owned the Great Northern and intended to give Rogue Valley shippers another choice of routes for their products besides the Southern Pacific's monopoly on rail service. However, the P&E tracks never extended much beyond Butte Falls. The shortline hauled a lot of lumber during World War I, but at the end of the war, revenue was low and the line closed down. Eventually, Brownlee-Olds Lumber purchased what was left of the railroad and operated it as a logging line. In time Brownlee-Olds became Owen-Oregon Company which became the Medford Corporation (Medco).
Meanwhile, Weyerhauser had built logging railroad trackage from Klamath Falls into the Cascades in the vicinity of Brown Mountain. In actuality, less than 30 miles separated Weyerhauser trackage from Pacific & Eastern rails.
Our "What If" Pacific & Eastern: This layout is based on the premise that the P&E was successful in crossing the Cascades and tying in with the Weyerhauser line for a route into Klamath Falls. Over the years, the track was upgraded, new industries were built online and the railroad flourished. The Pacific & Eastern of today offers service over the route shown below from the Rogue Valley to Klamath Falls where traffic may be interchanged to either the Union Pacific or the Burlington Northern Santa Fe.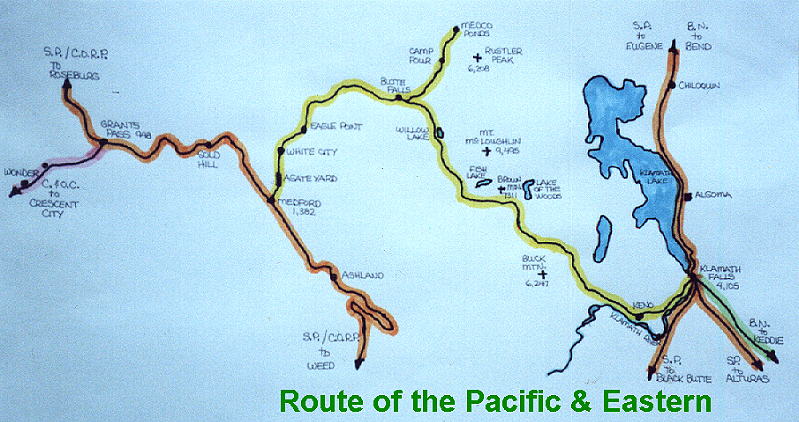 But, this layout doesn't look much like the Rogue Valley. The modules have evolved over the years with only limited attempts made to make them look like any particular scene between Medford and Klamath Falls. But, the industries on them are typical of industries found along the route of the P&E and are often named for real companies.
Why don't we make the modules look more like the Rogue Valley and Klamath Falls? Well, the modules are temporary. In the fall of 1999 we had planned to begin construction of a new, permanent layout. With this new layout, we will be making a serious attempt at creating a layout readily identifiable as a line from Medford to Klamath Falls. We are researching track diagrams and online structures in order to build a layout most visitors will recognize, which has contributed to the delay in start of contruction.
Some of the plans for the permanent layout are posted on the wall of this layout room.
What else happens on this layout? On Thursday nights, the club members operate this railroad as a real railroad would be operated. Each car has an origin and destination with a job to do in between. Trains and built, dispatched, operated and switched by a card order system that moves the cars in the same manner that real railroad move them. Each person has a train that he or she moves over the layout just as a railroader for the Central Oregon & Pacific works their train over the line. If you're interested in seeing this layout operate in this manner, contact a club member for details on attending one of our "Operating Sessions."

As you tour our modules, a description of what happens in our Op Sessions will appear in a box like this is written in. Taken by itself, a single box's description may not make a lot of sense, but reading all the Op Session boxes will give you a broad overview of how our sessions work.
---
---
Created by Larry Tuttle on July 18, 1999
Route Map drawn by Dave Spakousky
Revisions by David Hall on July 1999 & September 2002
All contents Copyright © 1999, 2001, 2002 by Rogue Valley Model Railroad Club
---